History of Clan Cameron
The first authenticated chief of one of the proudest and most romantic clans in Scotland was Donald Dubh, born circa 1400 and XI chief in bardic genealogy, from whom all the later chiefs derived their Gaelic patronym, Macdhomhnuill Dhuibh (the son of dark haired Donald).
The early history of the clan is notable for the constant battle fo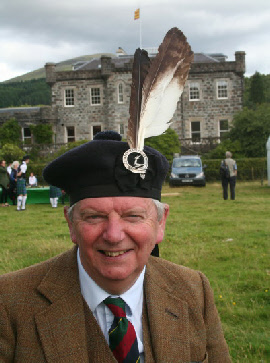 r possesion of land in Lochaber claimed, at different times, by various clans and most notably the Macintoshes with whom the Camerons feuded for over 300 years. In the early 16th century, the XIII chief, Ewen was granted the barony of Lochiel and was the first chief to use the title 'Cameron of Lochiel'. There followed the remarkable adherence to the Royalist cause most notably by Sir Ewen, XVII chief and Donald (the 'Gentle Lochiel') XIX chief whose support for Prince Charles Edward Stuart was crucial.
After Culloden, the clan system was destroyed and although the forfeited estates were restored in 1784, the chiefs of clans were now subject to the rule of law and to economic realities. In 1802, Achnacarry Castle was built by the architect James Gillespie Graham although not completed for some 30 years.
In the last century, the clan has been fortunate to have had farsighted chiefs who have contributed much to the Highlands. Sir Donald Walter, XXV chief raised three battalions for The Queen's Own Cameron Highlanders in World War 1 and was appointed Knight of the Thistle and Lord-Lieutenant of Inverness-shire, Sir Donald Hamish XXVI was also appointed KT and Lord-Lieutenant, which post is also held by the current chief Donald Angus.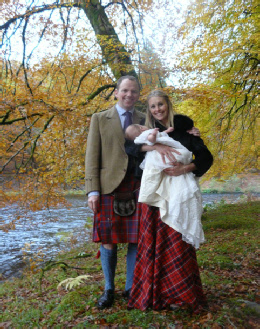 Donald Angus of Lochiel (eldest son of Donald Hamish Cameron) was born in 1946. In 1974 he married Lady Cecil Kerr, 2nd daughter of the 12th Marquess of Lothian. They have one son, Donald Andrew born 1976, and three daughters; Catherine Mary born 1975, Lucy Margot born 1980,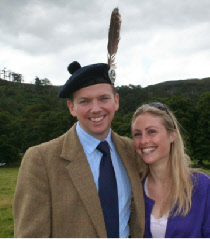 and Emily Frances born 1986. Looking to the future, young Donald Andrew of Lochiel is pursuing a career in law. In due course the task of preserving the Cameron lands for future generations, and ensuring that the great traditions of the clan shall endure will pass to him. Donald Andrew is pictured left with his wife Sarah (McLay) and their new son Donald Fergus Ralph Cameron.
CLAN CAMERON MUSEUM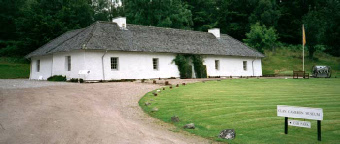 The building dates back to the 17th century and was originally thatched. It was burnt by the Hanoverian army 1746 and converted to a gardener's cottage in the early 1800s. It was converted to a museum in 1989 when it won an important Scottish Civic Trust Award.
The museum is open from Easter until the end of September and is the meeting place for tours.